Solution Overview
This Wi-Fi IP addresses all industrial WLAN markets. It includes MIMO modules. With MIMO, information is bidirectional over two or more antennas simultaneously using the same frequency band thus providing greater range and increasing throughput, while maintaining compatibility with legacy IEEE 802.11a/b/g devices. This is accomplished by a combination of enhanced MAC and PHY implementations including spatial transmitter/receiver multiplexing modes and advanced signal processing techniques to improve receiver sensitivity.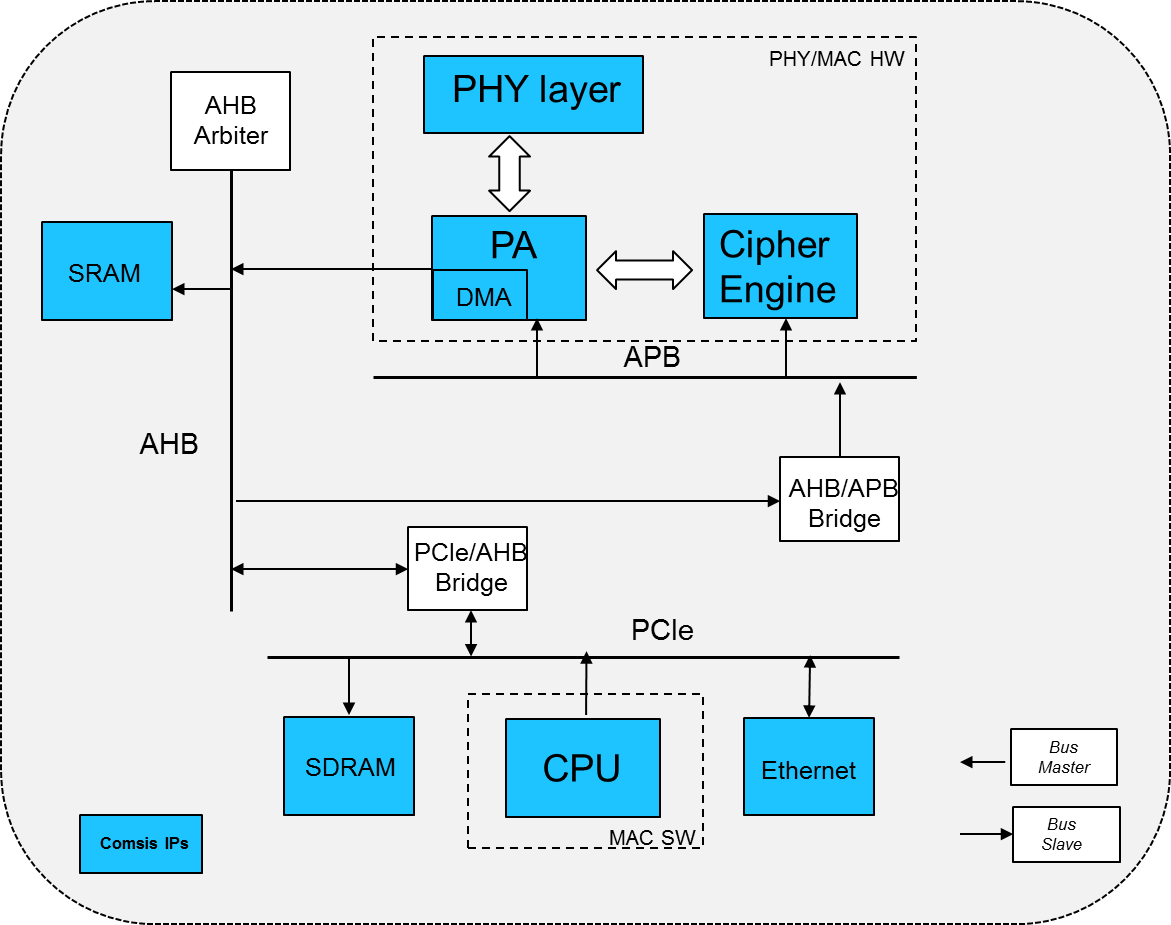 Secure and field-proven technology
The IP is currently used in industrial products. A simple deployment is operational at Comsis ready for demonstration purposes. Contact Comsis to book your demo, remotely or on-site.
Flexible, scalable, and easy to install
Thanks to a Reference User Manual, a Reference design documentation and FPGA synthesis and simulation scripts, RF daughter card and MKII motherboard, the IP is easy to install and handle as illustrated hereafter.
Complete validated solution
 MAC, Baseband, RF/DACs/ADCs control and configuration modules
IEEE 802.11a/b/g/n/p/ah/e/i fully compliant
RTL code validated by Synopsis
Compliance with standard validated by Agilent and Rohde Schwarz equipment
802.11a/b/g/n/p/e/i industrial feasibility validated on the COMSIS' FPGA-based MimoKit II platform with (up to) 80 MHz master clock and on 2.4/5 GHz bands. Xilinx FPGA-based platforms implementation in progress.
Interoperability validation with commercial devices
2x2 MIMO scheme
Up to 32 users
MAC
C programmable upper MAC (power saving mode (PSM), 802.11e, low power solution for IoT and applications
Full synthesizable RTL lower MAC layer in Verilog (protocol accelerator (PA), crypto, PHY interface, flexible PCIe interface)
Baseband
Full synthesizable RTL PHY layer in VHDL
Best Sensitivity and ACI mitigation
Hardware mismatching estimation and compensation algorithms
RF
Analog and digital AGC module for Max2828/2829 and AD9361
Software
AP and STA Configurations
UMAC working on an external processor (Linux Ubuntu OS)
PHY/MAC configuration by registers
Start/scan/join network, statistics and traffic applications